For piglets and finishers
Since its introduction in 2001, thousands of pig houses around the world have been equipped with the Grofit multifeeder. Years of knowledge and experience form the foundations of the development of these feeders. Grofit therefore fully complies with the demands today's pig farmers place on modern feeding systems.
Grofit-multifeeder
The Grofit-multifeeder dispenses pellets, meal and CCM to your pigs without bridge forming. The shape of the supply hopper makes bridge forming practically impossible. The Grofit offers a feed capacity of no less than 165 to 208 litres. Each individual system has two, separate dosing systems, so that one Grofit can supply two pens with feed separately. The feed dose can be accurately adjusted on each side using levers. Four, high quality, stainless steel drink nipples with adjustable flow rates provide the pigs with fresh drinking water. Each Grofit can be fitted with a closable lid with a hinged inspection hatch. The Grofit is equipped with two stainless steel mounting brackets for stable, solid attachment.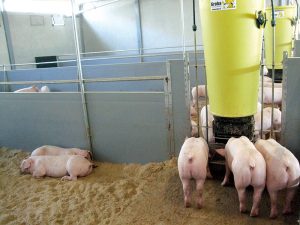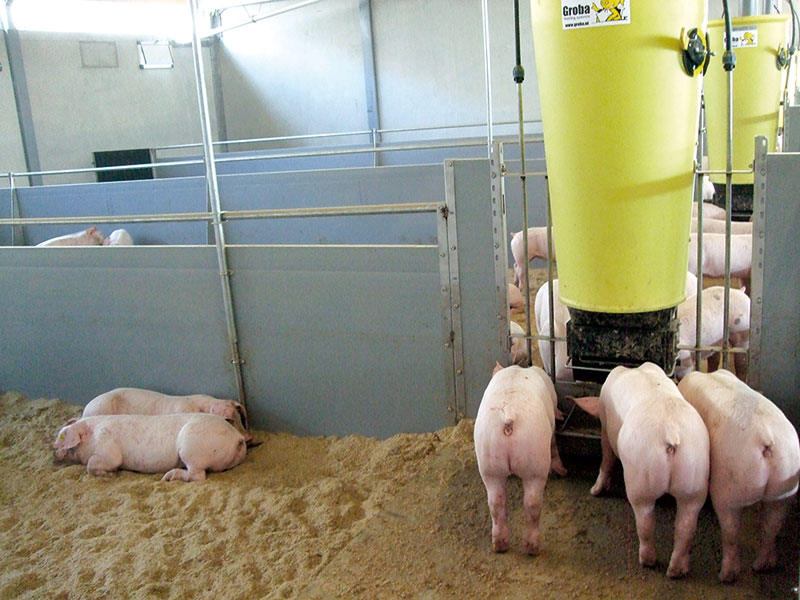 If you decide to mount the unit on the partition between two pens, the separate dosing system allows each pen to be provided with feed separately. Two levers can be used to accurately set the dosing rate. The four drink nipples supply your pigs with sufficient fresh water options for water circulation on request.
Other Groba products that may be of interest to you: All-round feeder, Grofast, or our Stalko series.